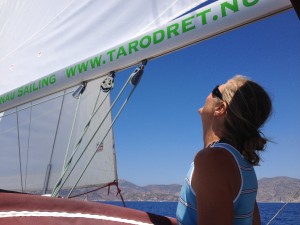 My boat is a Oceanis 473, Peristera. It has the text "Linda Lindenau Sailing www.ny.tarodret.nu" in green letters on the boom. I will text you on the arrival day and tell you more exactly where to find the boat.
Bring your stuff in a soft bag, that can be stored without using up too much space. You dont need any special clothes in the warm waters, just bikini, shorts and maybe a thin windstopper jacket. Remember sunprotection, and maybe a cap and a shirt with long sleeves. Use shoes that stays on your feet, not flip-flops. In the colder waters you will need warm and waterproof gear. Wool is the best to have next to the skin.
There are lifevests onboard, and pillows, duvets and blankets.
To charge your phone you'll need a 12-volt plug. Only occationally we will have 220 volt onboard.
I am responsible for the safety and wellbeing of you all, but the day-to-day responsability is shared between all of us. That means that everybody does her/his share of cooking, manual-reading, engine maintenance and diagnosis, washing and shopping. Before you arrive, consider what you need to be content in the very enclosed, and intimate area that a boat is. It is important that we give each other respect and space, so as to have a good time onboard.
Everybody can get seasick. Bring some medication to prevent it, seasickness in contageous.